---
Chiavi postali di Francia
Una piccola prefazione sulle chiavi postali Francesi è necessaria per spiegare la loro evoluzione.
Le poste Francesi hanno determinato tre differenti momenti, relativi alla produzione di chiavi destinate agli uffici postali e telegrafici dell'epoca. I periodi sono 1882, nascita del servizio telegrafico di Francia ed a seguire modifiche nelle specifiche di produzione si sono avute nel 1907 e poi nel 1913.
Le chiavi postali sono state prodotte da diversi costruttori sparsi in tutto il paese, la loro denominazione deriva quasi sempre dal nome del relativo produttore.
Ringrazio Christian Chefnay F9WT per l'incredibile mole di dati presente nel suo sito dedicato alle chiavi Francesi http://f9wtchris.wixsite.com/manipulateursmorse/france
Fonte di molte informazioni qui riportate.
Grazie Chirs per condividere le tue preziose informazioni con gli altri appassionati di chiavi telegrafiche.
A little preface about French postal keys is necessary to explain their evolution.
The French Ministery of Postal office had determined three different moments, relating to the production of keys for the post offices and telegraphs of the time. The periods are 1882, the birth of the telegraphic service of France and to follow changes in the production specifications occurred in 1907 and then in 1913.
The postal keys were produced by several manufacturers all over the country, their name almost always derives from the name of the relative producer.
I thank Christian Chefnay F9WT for the incredible amount of data on his site dedicated to the French keys http://f9wtchris.wixsite.com/manipulateursmorse/france
Source of much information reported here.
Thank you Chirs for sharing your precious information with other telegraph key lovers.
1)  Chiave telegrafica Postale  VINAY
Vinay è stata una delle prime case costruttrici di apparecchiature telegrafiche di Francia. La sua sede era a Parigi ed il proprietario era Pierre Vinay (1828 - 1872).
La chiave sotto esposta era in uso agli uffici telegrafici. Ipotizzo che si tratta di un secondo modello prodotto da Vinay.
La prima chiave, di proprietà di Chris F9WT è stata prodotta conservando dei lineamenti finemente lavorati. Una lavorazione che richiede tempo e cura nella produzione, ( clicca qui per vedere la chiave di Chris ).
Il secondo modello, la chiave sotto esposta ha le forme della leva più lineari, ottenibile con un minor tempo di produzione, mantiene ancora le prime direttive postali di produzione. La chiave ha la molla a balestra per il ritorno della leva principale in posizione di riposo, senza possibilità di regolazione al pari delle chiavi Camelback prodotte proprio nella Mittel Europa nel medesimo periodo . Stimo il periodo di produzione di questa chiave Vinay tra la fine dell'800 ed i primi del '900.
Vinay factory was one of the first manufacturers of telegraph equipment in France.
His home was in Paris and the owner was Pierre Vinay (1828 - 1872).
The key underneath was in use at the telegraph offices. I hypothesize that this is a second model produced by Vinay.
The first key, owned by Chris F9WT, has been produced preserving finely worked features. A process that requires time and care in production, (click here to see Chris's key).
The second model, the key underneath has the most linear lever forms, obtainable with a shorter production time, still retains the first production postal directives. The key has the leaf spring for the return of the main lever in the rest position, without the possibility of adjustment like the Camelback keys produced in Mittel Europa in the same period. I estimate the period of production of this Vinay key between the end of the 19th and the beginning of the 20th century.
25 Nov. 2018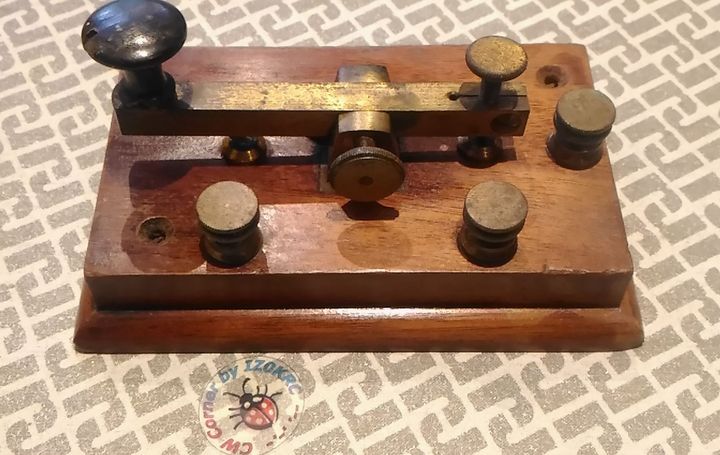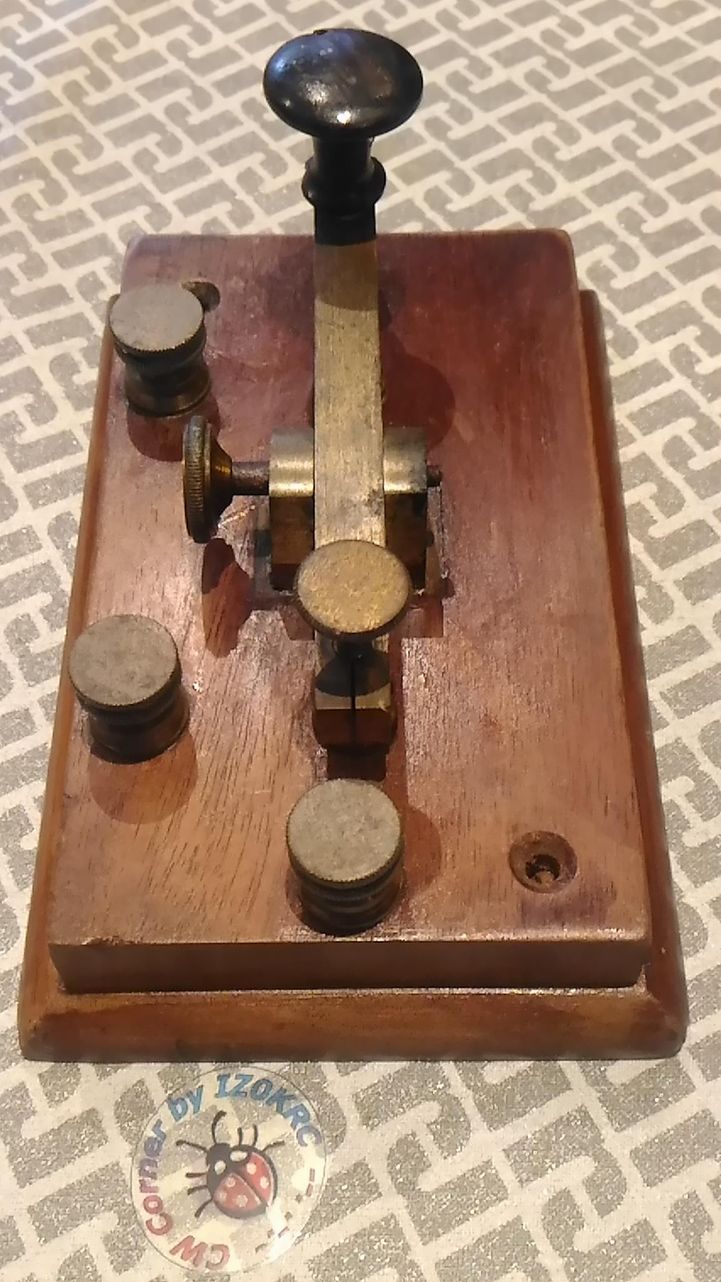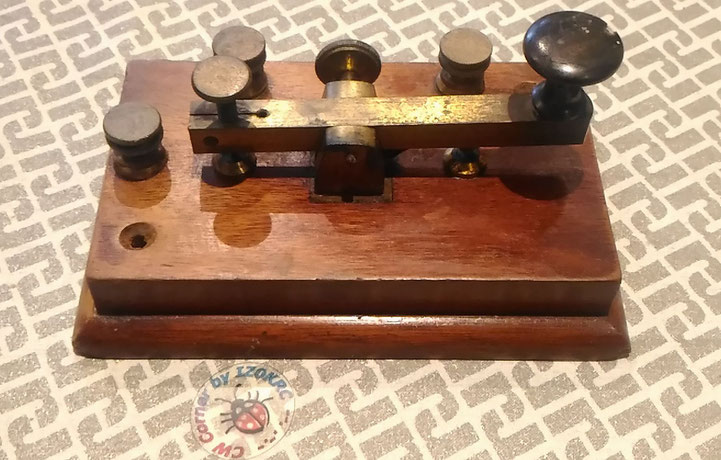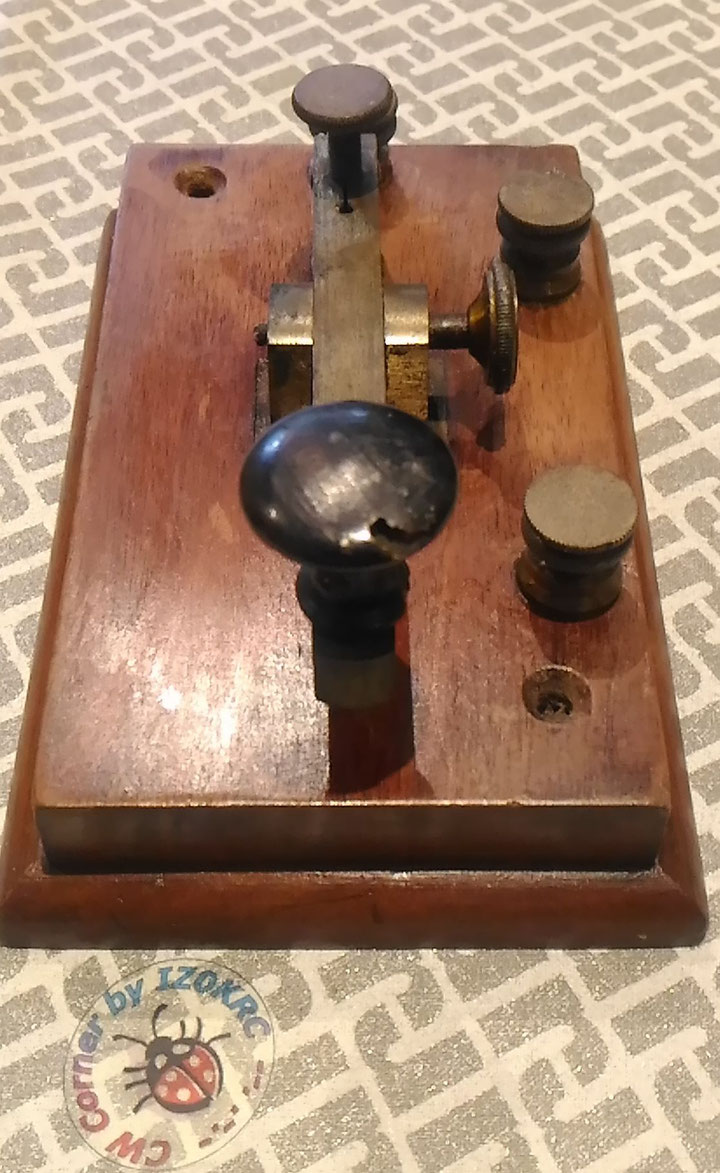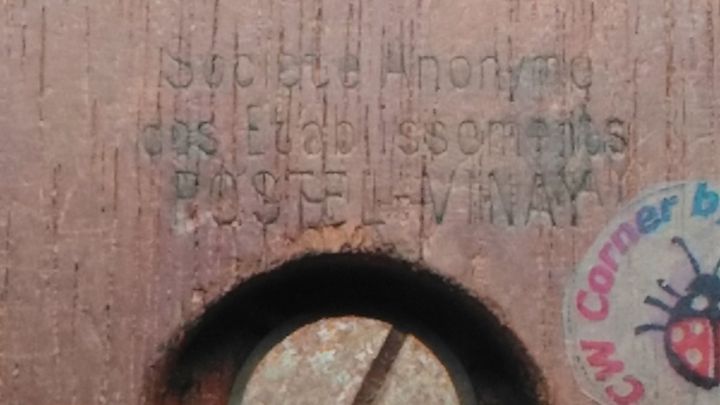 2) Chiave telegrafica Postale Le Las Paris
 La Società Le Las nasce a Parigi nel 1909 per la produzione di materiale di precisione per le comunicazioni.
Come si può vedere da un estratto di un documento dell'epoca sotto esposto, la Società forniva strumentazione per il Ministero della Guerra e le compagnie di navigazione, ed agli uffici telegrafici e telefonici del paese.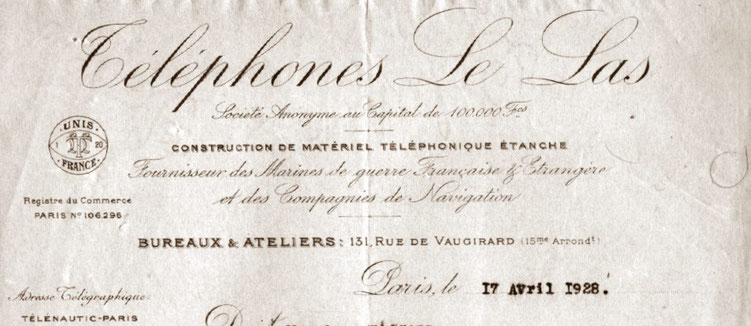 La Società Le Las è ancora attiva oggi, produce ancora oggi per lo più apparati telefonici, per Internet, oltre che strumentazione di laboratorio ed altro, clicca qui per andare direttamente al sito ufficiale della Società Le Las   
Le Las Company was founded in Paris in 1909 for the production of precision communication material.
As can be seen above there is an extract of an oldest document of the period, the Company provided instrumentation for the Ministry of War and shipping companies, and the telegraph and telephone offices of the country.
The Le Las Company is still active today, still today produces telephone equipment, Internet, as well as laboratory equipment and more, click here to go directly to the official website of the Le Las Company
25 Novembre 2018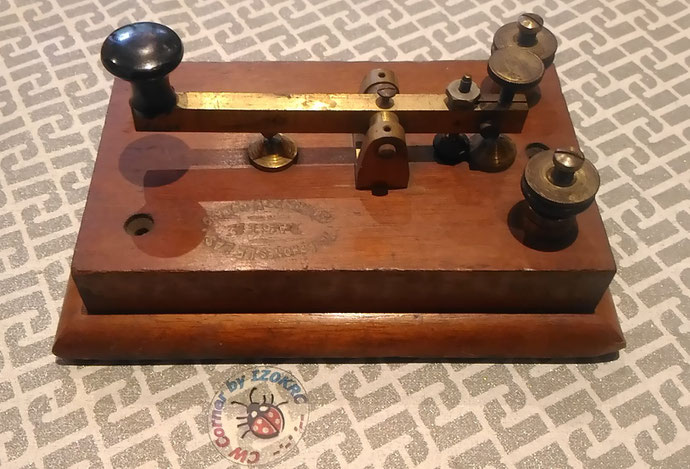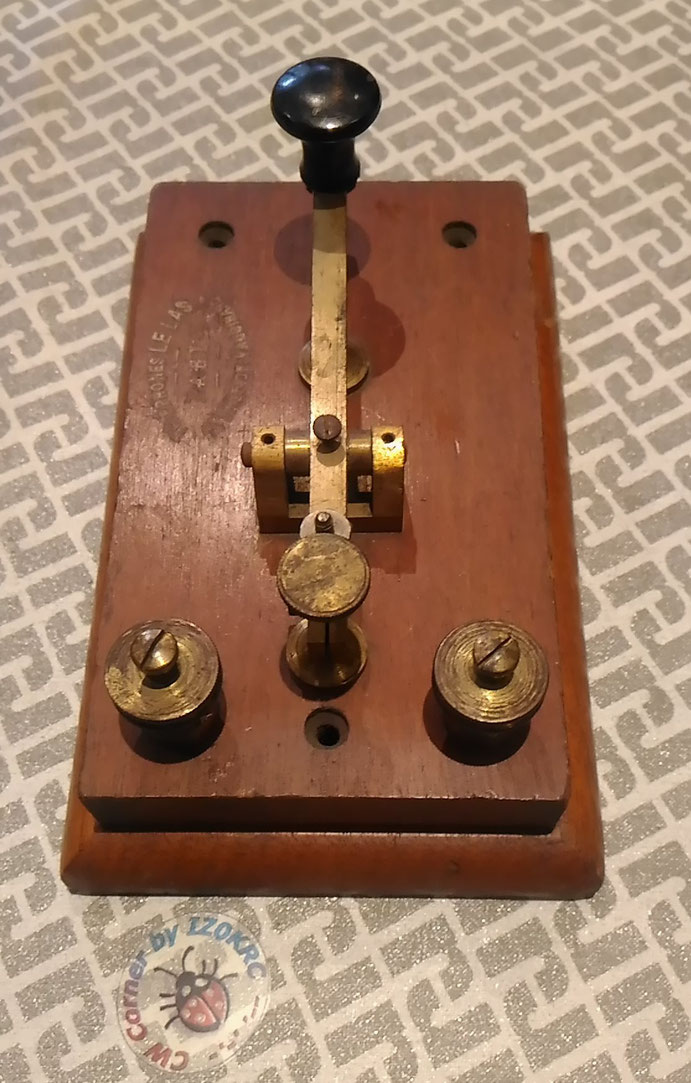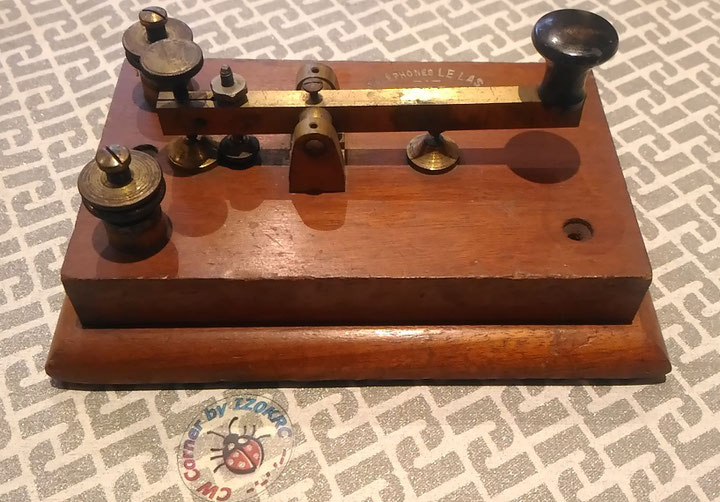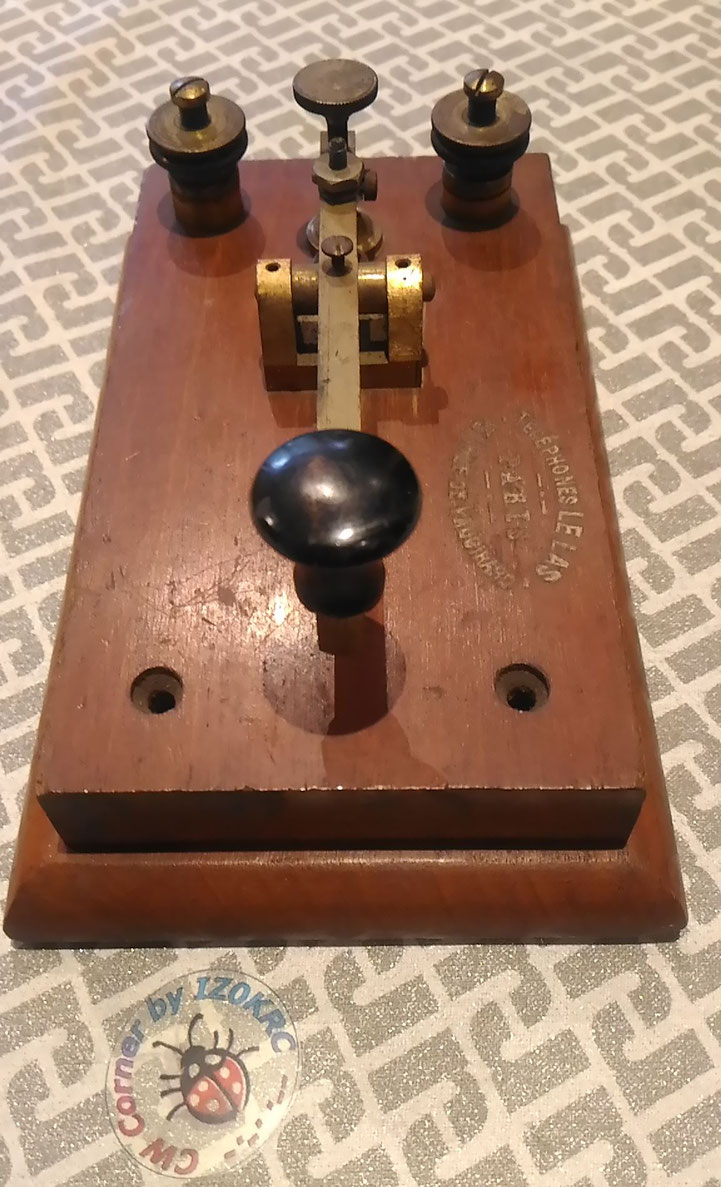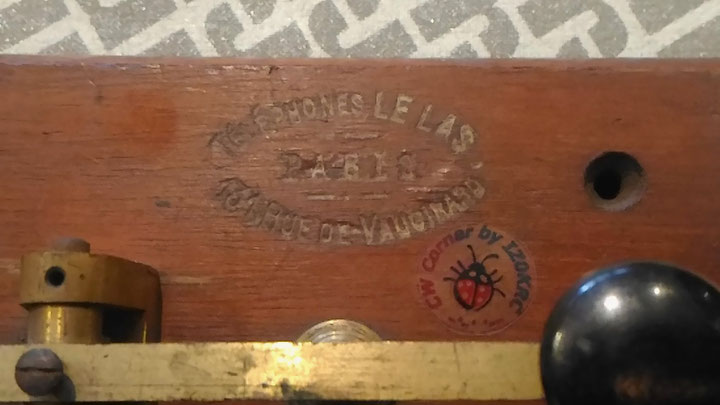 3) ANTICO TASTO TELEGRAFICO  RENE' PESTY.
Antico tasto telegrafico Francese marcato "Renè Pesty - Paris".  Anno di produzione primi del 900
S/N 23 utilizzato negli uffici postali Francesi.
Da restaurare.
Oldest French telegraph key marked "Renè Pesty - Paris", produced in the early of '900
S/N 23, used in the Frenc Postal and Telegraph offices
It need to restored
2012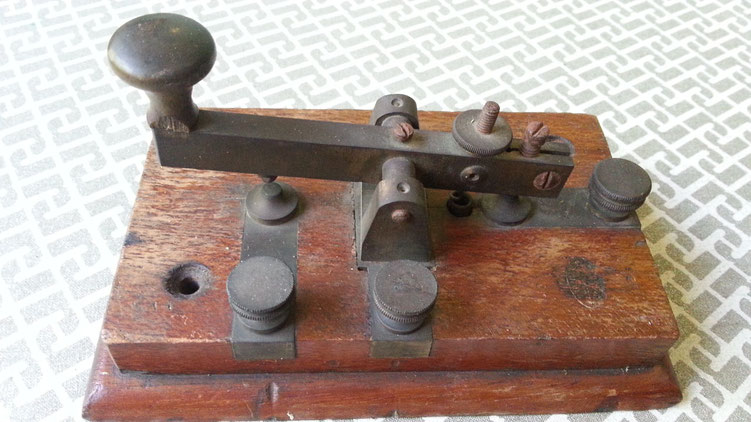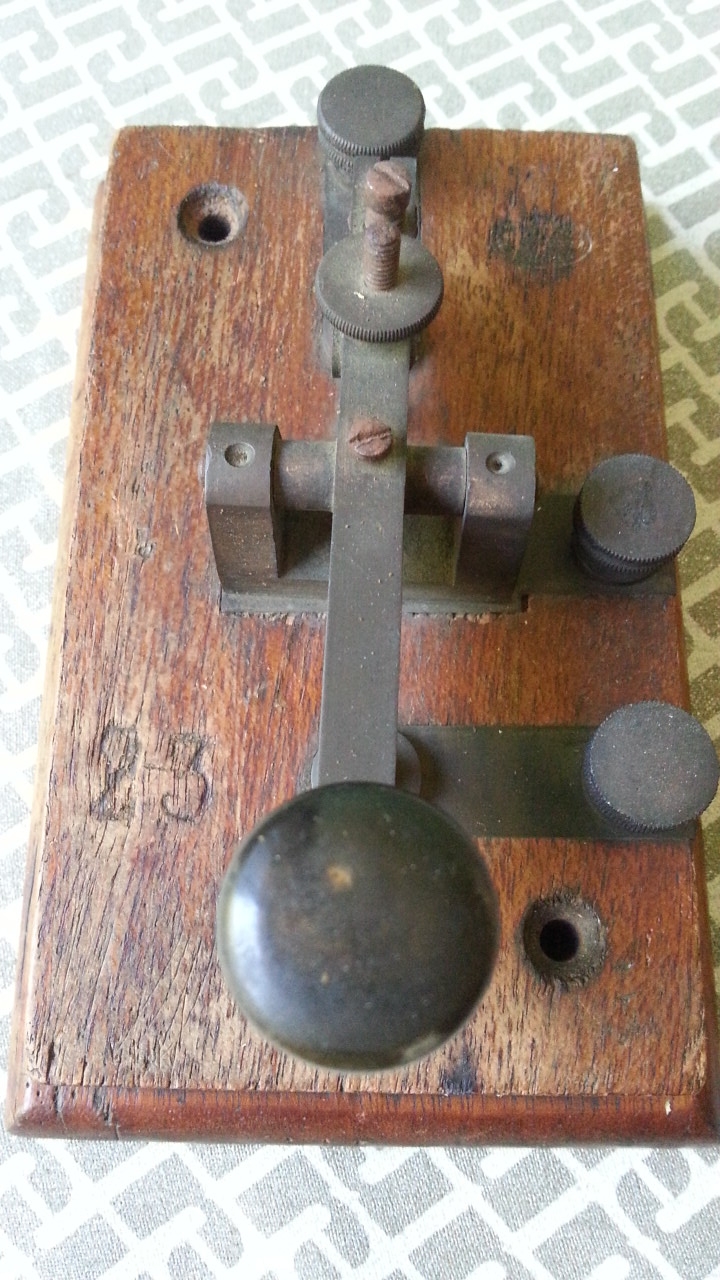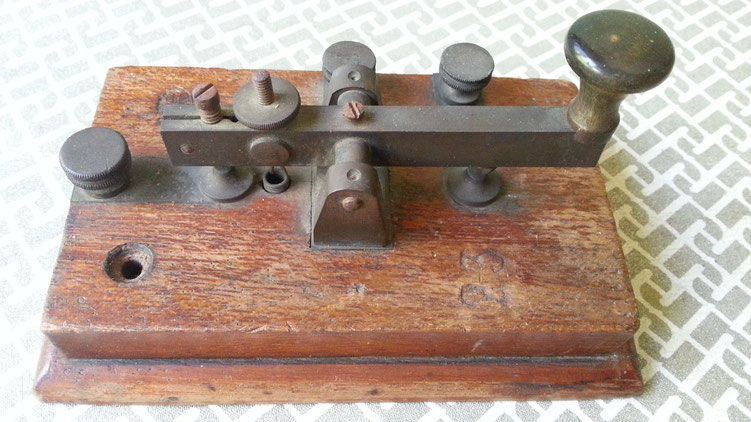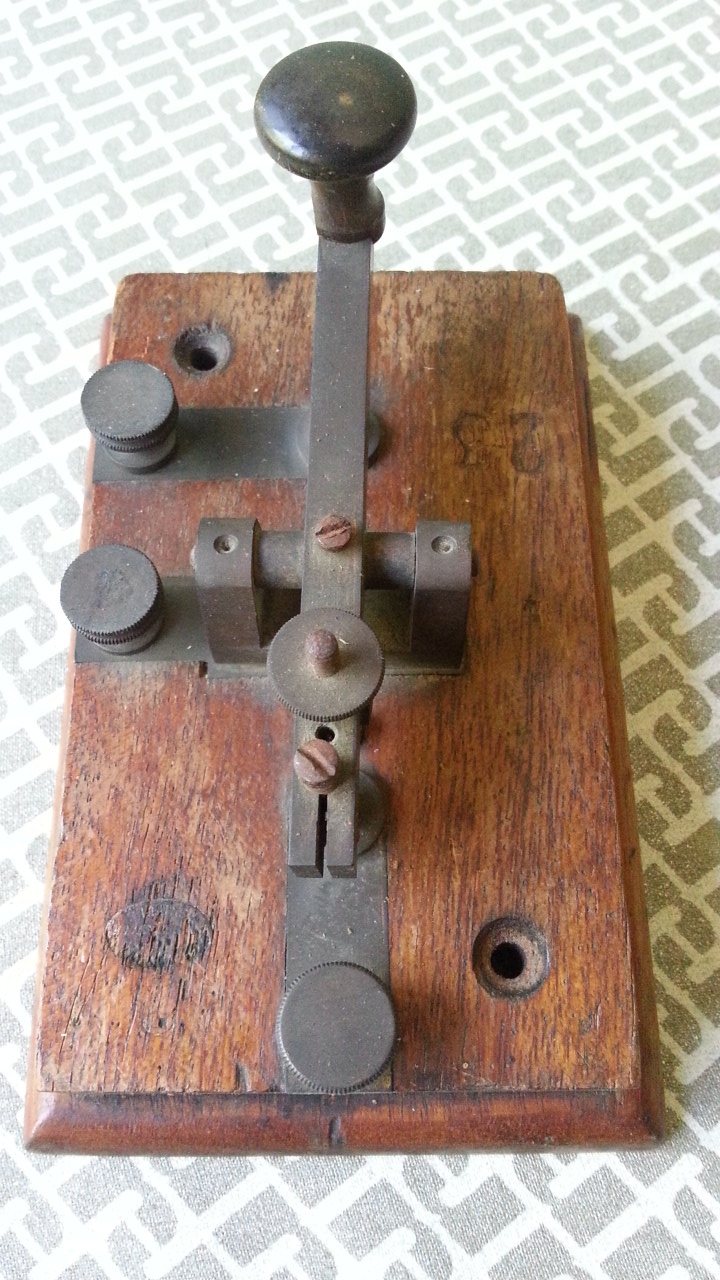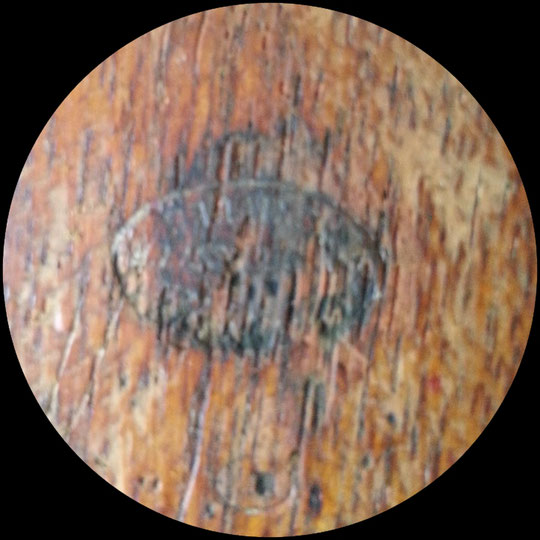 ---
4)  Chiave telegrafica DYNA, primo modello  - 1925.
Il marchio Dyna nasce a Parigi nel 1921 dal suo fondatore  André CHABOT.
CHABOT sarà la Società che poi commercializzerà i prodotti con il marchio DYNA.
Sotto quest marchio si produranno molte cose, tra cui diversi tipi di tasti telegrafici per i servizi postali o militari, infine verso gli anni 80 avvieranno  per la produzione alcuni prodotti dedicati ai Radioamatori.
Tutte queste informazioni le ho trovate grazie a F9WT Christian al seguente sito
http://www.uft.net/articles.php?lng=fr&pg=227&mnuid=173&tconfig=0
Ringrazio Christian per aver condiviso con la comunità Radioamatoriale le sue ricerche.
Il modello sotto esposto è stato il primo manipolatore prodotto da questo marchio.
Egli non si trova nel primo catalogo edito nel 1938.
Il tasto porta sotto la base di Legno inciso il logo DYNA, viene inserito a catalogo nel 1932, con una leggera modifica: la vite pivottante del braccio principale non è bloccato da una vite di serraggio, ma con un contro dado zigrinato.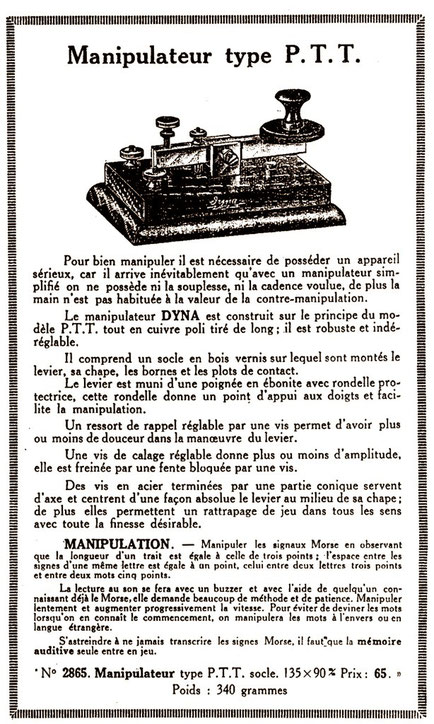 The Dyna brand was born in 1921 in Paris, founder by André CHABOT.
The CHABOT company market the products under the brand DYNA.
Under this brand produce many things, including different types of telegraph keys for the postal service or military, finally towards the '80 will start to produce some products dedicated to Amateur Radio.
All this information I found thanks to F9WT Christian at the following website
http://www.uft.net/articles.php?lng=fr&pg=227&mnuid=173&tconfig=0
Many thanks to Christian for sharing with the HAM community his research.
The key show under was the first key produced by the Dyna brand.
He is not in the first catalog, published in 1938.
The key brings under the wood base engraved logo DYNA, it is entered in the catalog in 1932, with a slight modification: the screw pivoting the lever is not blocked by a tightening screw, but by aagainst  knurled nut.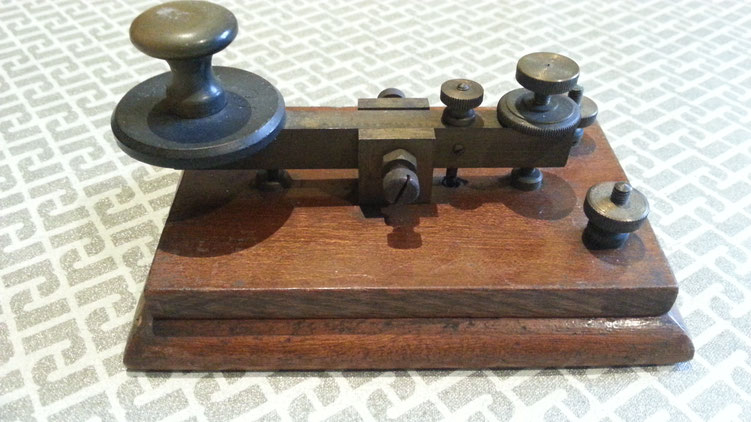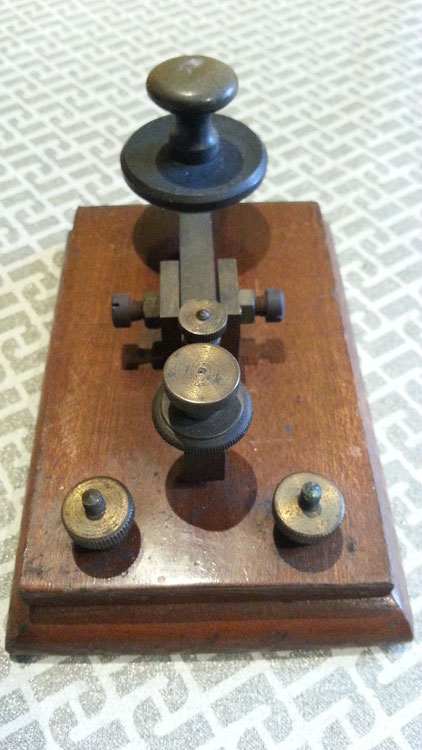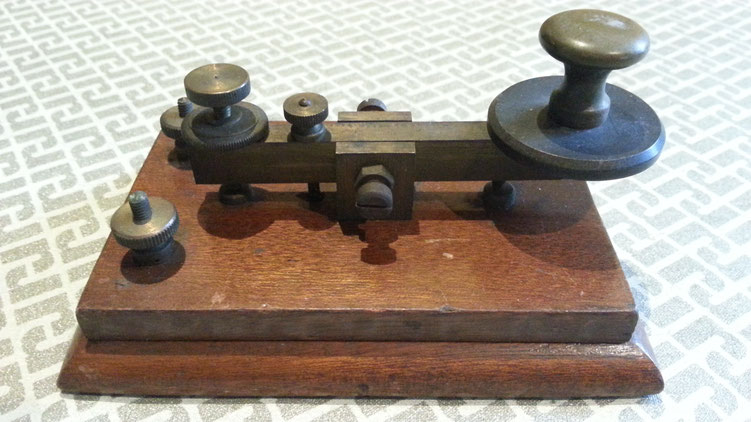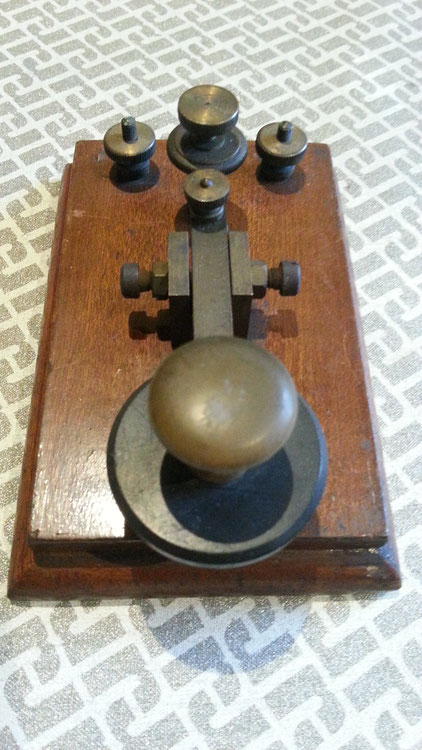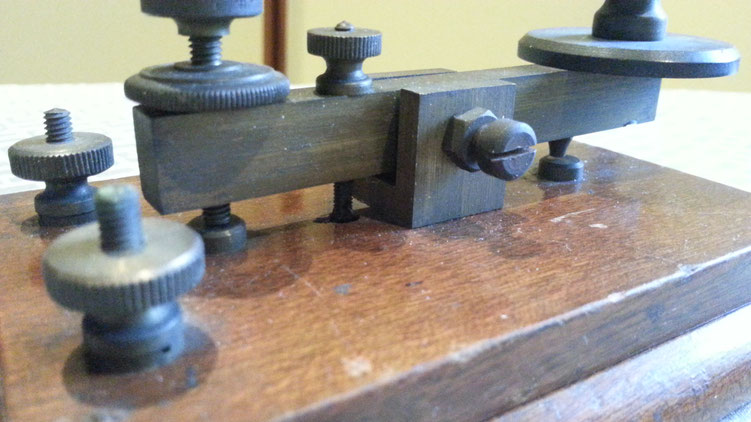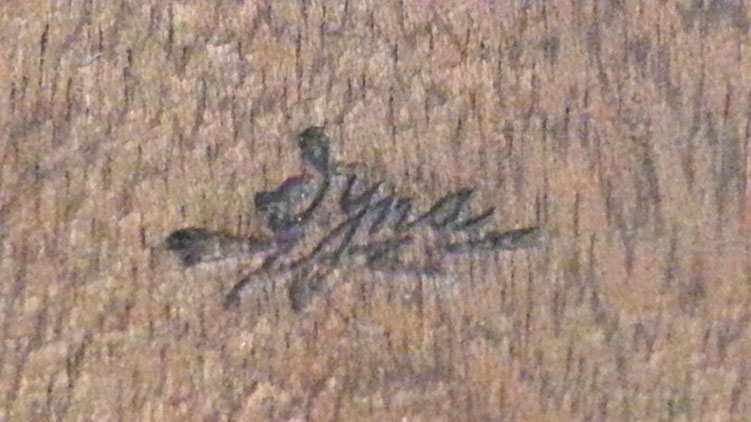 ---
5) Chiave telegrafica DYNA, secondo modello.
Sotto un altro tasto Dyna.
Il tasto sopra ha l'Hardware in ottone e le teste delle viti di regolazione piatte, mentre il tasto di sotto è sempre un Dyna, ma presenta l'Hardware nichelato e la testa delle viti di bombate.
Confrontando lo stile delle viti e la diversa finitura dell'Hardware ho definito il tasto di sopra come primo modello, mentre il tasto di sotto è il modello più giovane.
Nell'ultima foto si possono vedere le differnze tra i due Dyna.
Un altra differenza è nella base, leggermente più lunga nel modello più vecchio
Anhoter kind of Dyna telegraph key.
The key above have brass hardware and flat head screws, the under key have hardware nickel plate with rounded head screws.
I tink the brass model is more old than nichel plate type, so I've called Early type, and the Under key Late type.
The other little difference from two keys is that the type I° have a base little more long than type II°.
Do you will see this diffrerence from the two Dyna key in the last photo.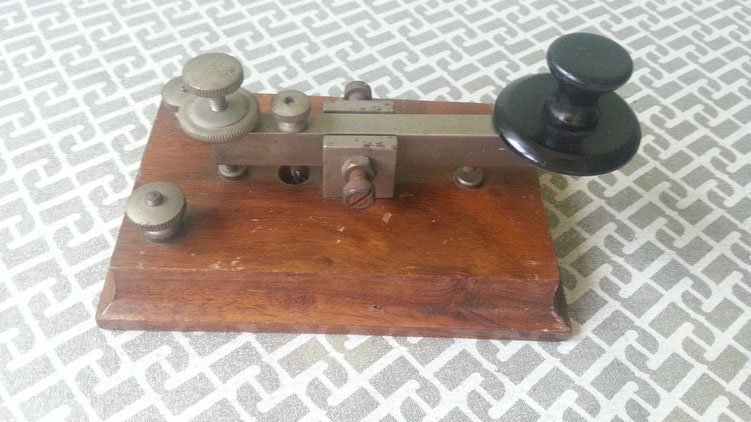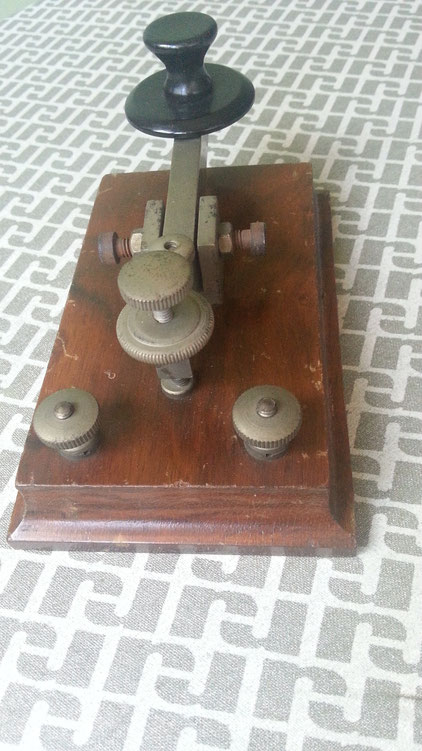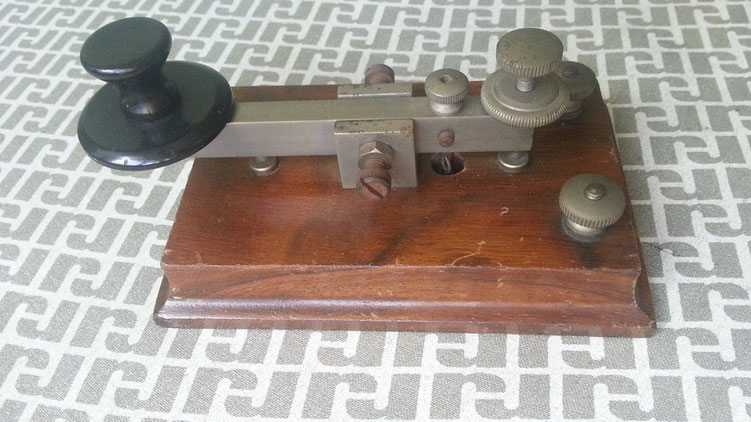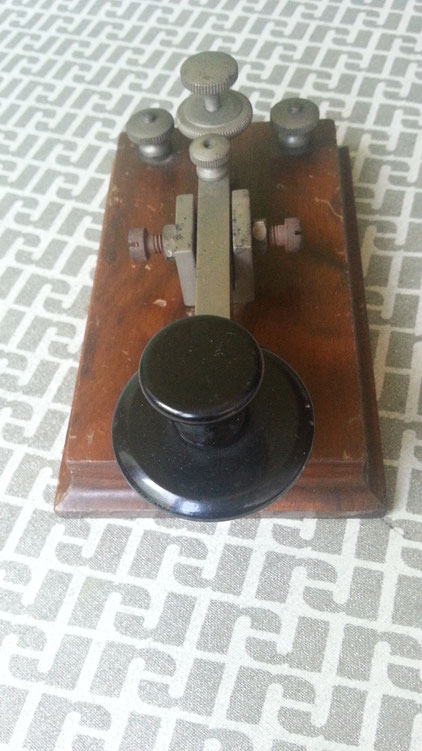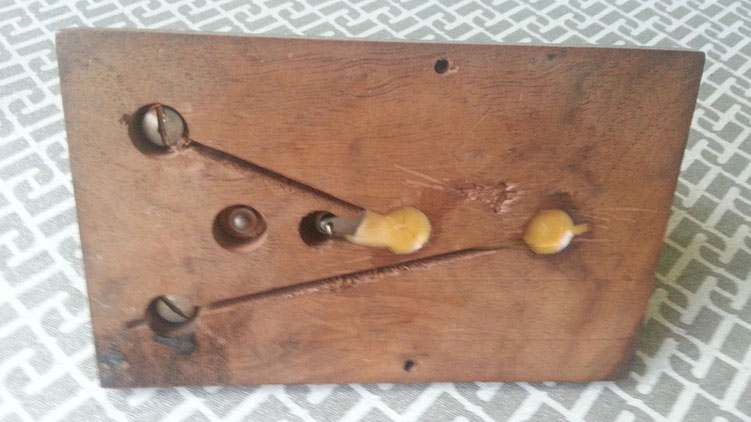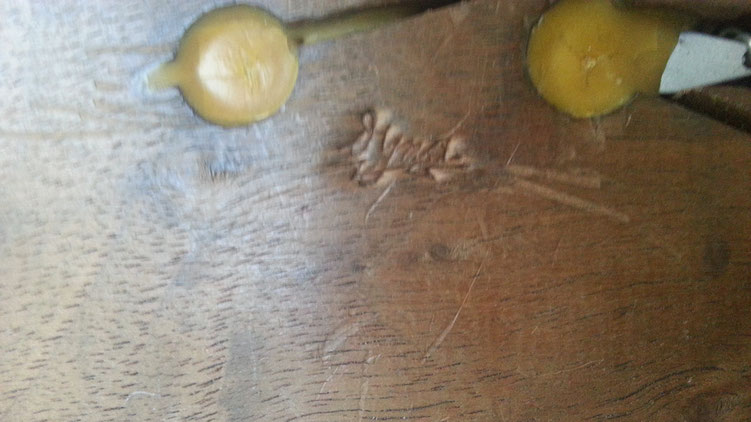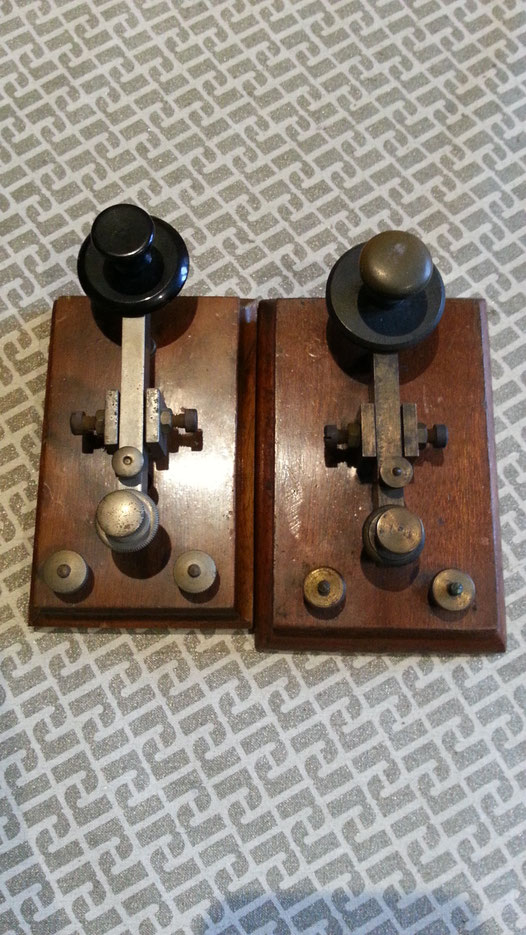 The next KEYS INCOMING ....